Obituary Karin Sjöberg
Obituary Karin Sjöberg
It is with great sadness that we have to tell you that our member, Karin Sjöberg, has passed away. She was a very loved person in our study circle. In addition to her engaging and poetic contributions to our group, Karin played a central role in developing the new NSU web page since our summer session in Sauðárkrókur in 2014 until this autumn.
Our thoughts firstly go to her young daughter Alva and to Karin's life partner and our friend, Johan Söderberg.
We met Karin for the first time during NSU's summer session 2013 in Ulsteinvik, Norway where she shared a striking presentation with Circle 7 entitled "Creative Leftovers – exploring the ideas nobody asked for" on how to keep up creativity and experimental drive in results oriented surroundings. Karin created an installation where she played with light and shadows and used illustrations that she hadn't yet realized in her capacity as a graphic designer and illustrator.
Karin's presentation was articulated around the question of how to work within the commercial field and use her creativity within the space permitted by graphic guidelines and the limits of time and cost efficiency. In the presentation she said, "In the best cases these restrictions will work as a springboard, a challenge to make as much as possible out of every idea, defying the limits. But many times demands for efficiency or corporate anxiety take over and the quickest, simplest and most recognizable solution will win. No time for trying, no daring to experiment. Creativity set to wait. The unwanted ideas fall behind".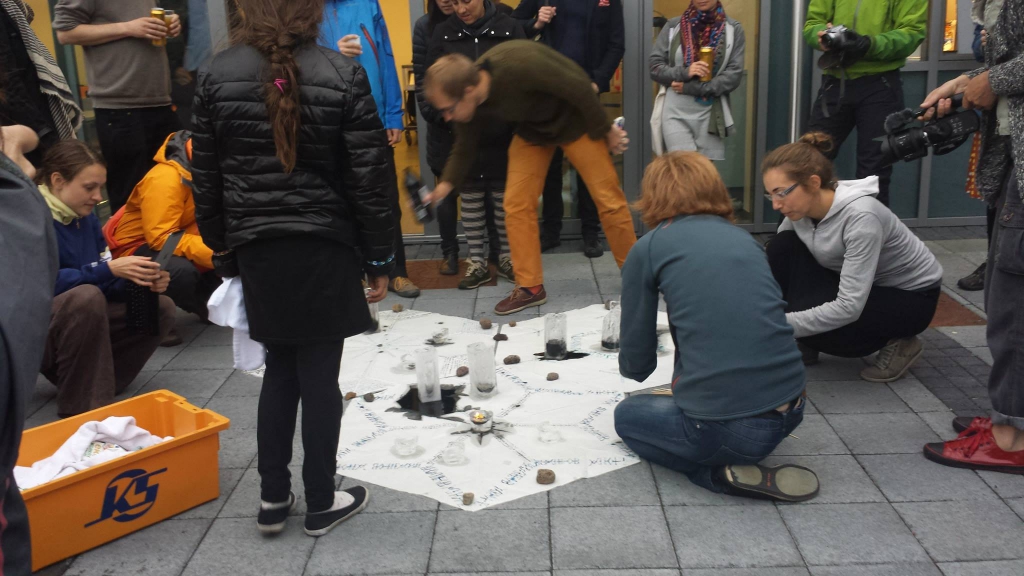 However, it was clear that within the space of NSU Karin was able to try, to dare, to experiment and our study circle very much benefited form her intelligent, engaged and kind demeanor and from her poetic and inspired contributions. During the summer session 2014 in Sauðárkrókur, Iceland Karin presented a singular work on paper- a drawing with ice, candles and oil that read like a map of the time we spent together.
We will indeed miss Karin deeply and her spirit will stay in our hearts.
Per Roar, Luisa Greenfield, Camilla Graff Junior, Lucy Lyons and Ami Skånberg Dahlstedt