Circle 8: NSU — My bridge to the academic world
Circle 8: NSU — My bridge to the academic world
Ever since I joined the NSU, I have gradually come to feel like a member of an open, supportive environment where I can develop and test out ideas with academics, non-academics, and students on different levels. It is a unique and warm atmosphere with a multitude of friendly people, who are sharing project ideas, research results, chats, memories, and good laughs throughout the sessions. My impression is that here is where people can develop new, creative ideas and projects in a multidisciplinary way since it gathers such a plurality of people by being connected to academia and the general society — where the barrier to be part is easy to pass.
In my daily life, I work in the Norwegian high-school system, formerly as a teacher and now as a department leader, together with doing some work at the local public library. I finished my MA in History of Ideas in 2009 and have since then been reading and playing around with different ideas, some for projects, others for mere curiosity. Through the NSU I have a bridge to the academic world, where I can get help from academics and researchers to form more research-minded projects — and in this way work with academic topics and writing while keeping my day job. I have already been able to work on and publish an article in an academic anthology through the former Study Circle 8 (2018–2020)
Therefore, the NSU is an extremely important organization that is truly democratic in that it allows laypersons a connection and place to develop academic thoughts and projects in a safe and friendly environment that is non-hierarchical. Together with being democratic in its build-up, with the General Assembly being the organ of decisions.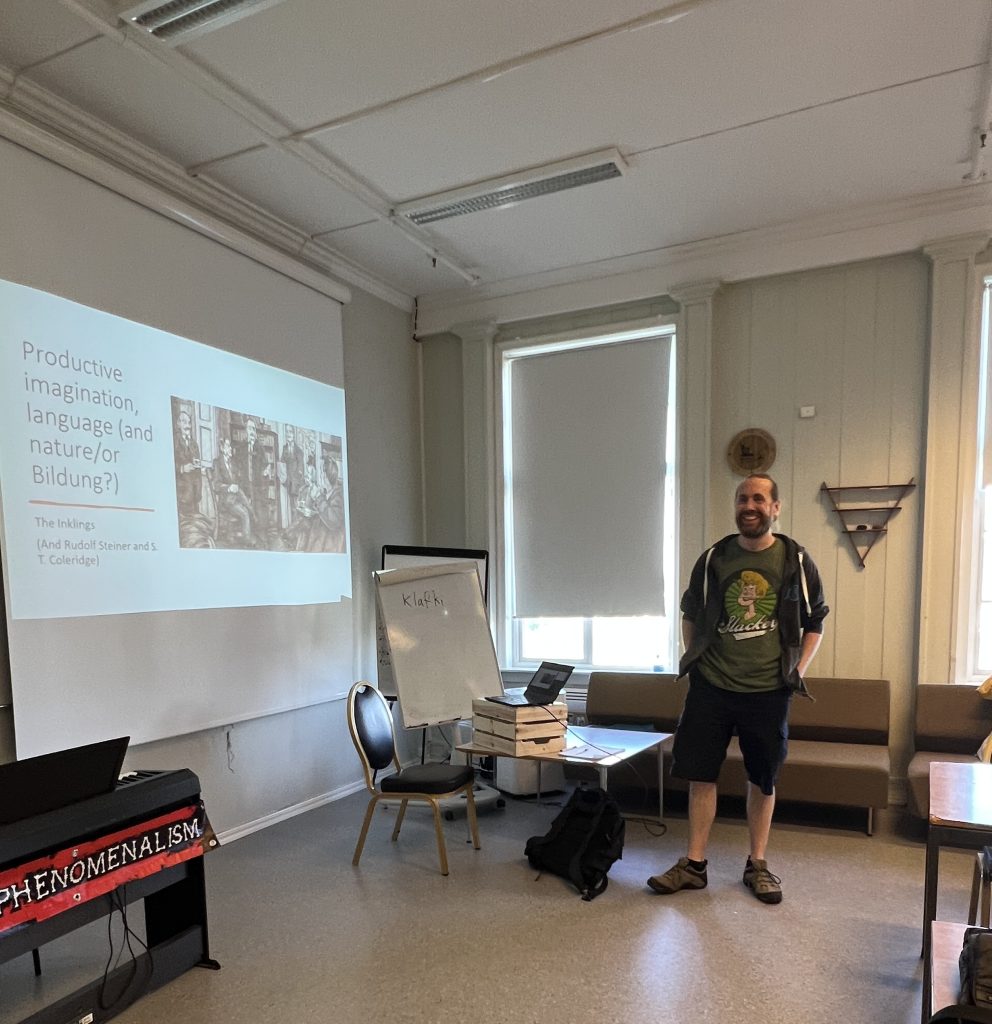 The pictures show me in the very initial phases of a new project on the informal Oxford literary circle called The Inklings, consisting among others of J. R. R. Tolkien, C. S. Lewis, and Owen Barfield. My focus will be the concept of productive imagination. I got to share my ideas and receive both practical and theoretical advice and clarifications in the research project – with encouragement to delve further into it, and present results and struggles at future sessions. I will leave the NSU Summer Session energized and inspired to keep on working with this project — and I am grateful to have NSU to be able to do this.